Description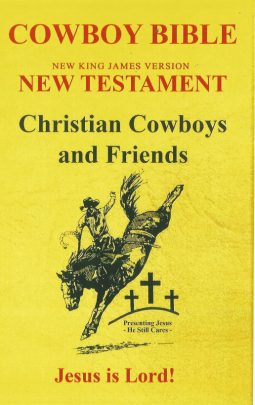 We are glad to be able to send you the Cowboy Bible. May God bless you and those others you share it with.
Some of you have asked about the cost. We are providing this at no cost to you. If you want to purchase the Cowboy Bible, the replacement cost is $7.00 + $3.00 shipping. If you want to send some extra money to help us give away more Free Bibles, it will be greatly appreciated.
Don't feel obligated to send in anything. This is a free gift. We love you and God loves you very much.

Let God's word become alive in your life.
Isaiah 55:11 "So shall My word be that goes forth out of My mouth: it shall not return unto Me void, but it shall accomplish that which I please, and it shall prosper in the thing whereto I sent it."
I pray God's best for you.
Your friend in Christ,
Ronnie Christian
Phil 4:19
NOTE:
We are happy to send you 1 Free Cowboy Bible, however, we only send one per request.
If you need more than one, they are available @ $7.00 per additional copies.
Shipping Cost for one Bible is $3.00 with $2.00 shipping charge per additional copies
Thank You!